HELICAL SPRINGS
Helical springs for stamping and industry.
Stamping springs, also called die springs or colored springs, have a rectangular wire section. They are manufactured according to the ISO 10243 standard. Likewise, this same standard also defines four series of springs that, being of the same dimensions and therefore interchangeable, offer us load values ​​from lower to higher. These four series are identified by colors (Green, Blue, Red and Yellow), to simplify their selection.
It should be noted that, within the family of rectangular section springs, there is a fifth, a sixth and even a seventh super-strong series that, while preserving the dimensions of the other four series, offer much higher load values ​​than those of the strongest series of the first four indicated in the previous paragraph. Likewise, there is an extra light series (purple) whose charge value is even lower than any of the others.
All springs are made of steel alloy wire (Cr-V/Cr-Si). This type of thread is especially suitable to resist against impacts and deformations. In addition, due to its quality, it can work in conditions of high temperatures up to 180ºC and low temperatures up to -30ºC. The springs are subjected to heat treatments and a "shot peened" process, as well as being preloaded. With all this, it is possible to reduce tensions and achieve high fatigue limits.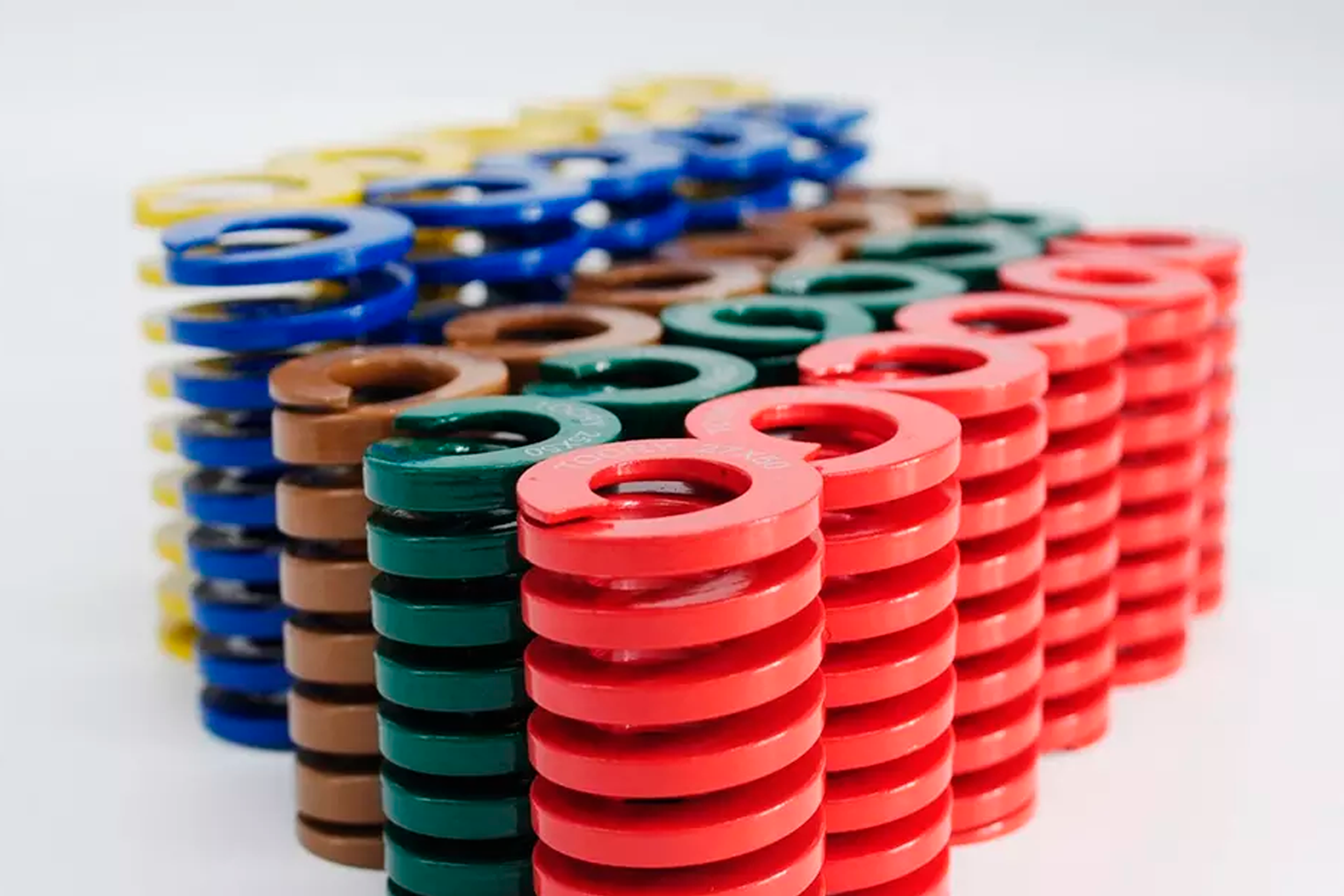 Within the family of rectangular section stamping springs there are therefore eight series, each one with a higher level of rigidity than the previous one:
Recommendations for use:
Select the longest possible spring with the lowest possible force, resulting in a smaller ammount of work.

Preload the spring; at least a 5% of its length with a 2 mm minimum.

Prevent total deflection from being greater from the maximum recommended.
In the following links you can view and download the catalogs of each spring, as well as the description of the cotas:
Description of spring measures